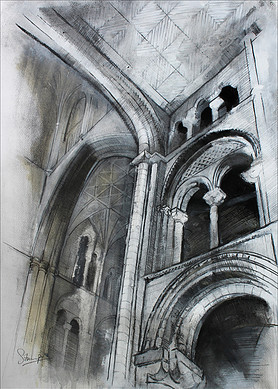 My studio has been in Peterborough for a number of years and the Cathedral has become an important subject for me during this time. I seem to have to work a subject over and over to try to really understand it. As a consequence my work is in themes: London, New York, Classical Sculptures, Figures as well as Peterborough Cathedral. The background to the way I work is a mixture of a love of early renaissance Art and the influence of my training under Miles Richmond, a close associate of David Bomberg. These two ways of working have the commonality of an emphasis on drawing in order to understand the world. In my drawings and paintings every mark, stain, dribble and smudge is vital. I aim to be totally honest to the subject, whilst evolving into something quite independent; structure, space and form are really my subject.
Previous exhibitions include:
The New English Art Club and The Royal Society of British Artists, Mall Galleries, London
Open exhibitions - Sheffield, Kings Lynn, Peterborough and Spalding (prize winner)
Individual exhibitions - Chelmsford Museum and Art Gallery, Skylark Gallery and Woodbine Contemporary Arts - also exhibited my work at the Affordable Art Fair and Cork Street, London
View Mick Stump's website here...
Need any help?
If you have an interest in particular type of artwork or you're struggling to find the ideal artwork,
please get in touch