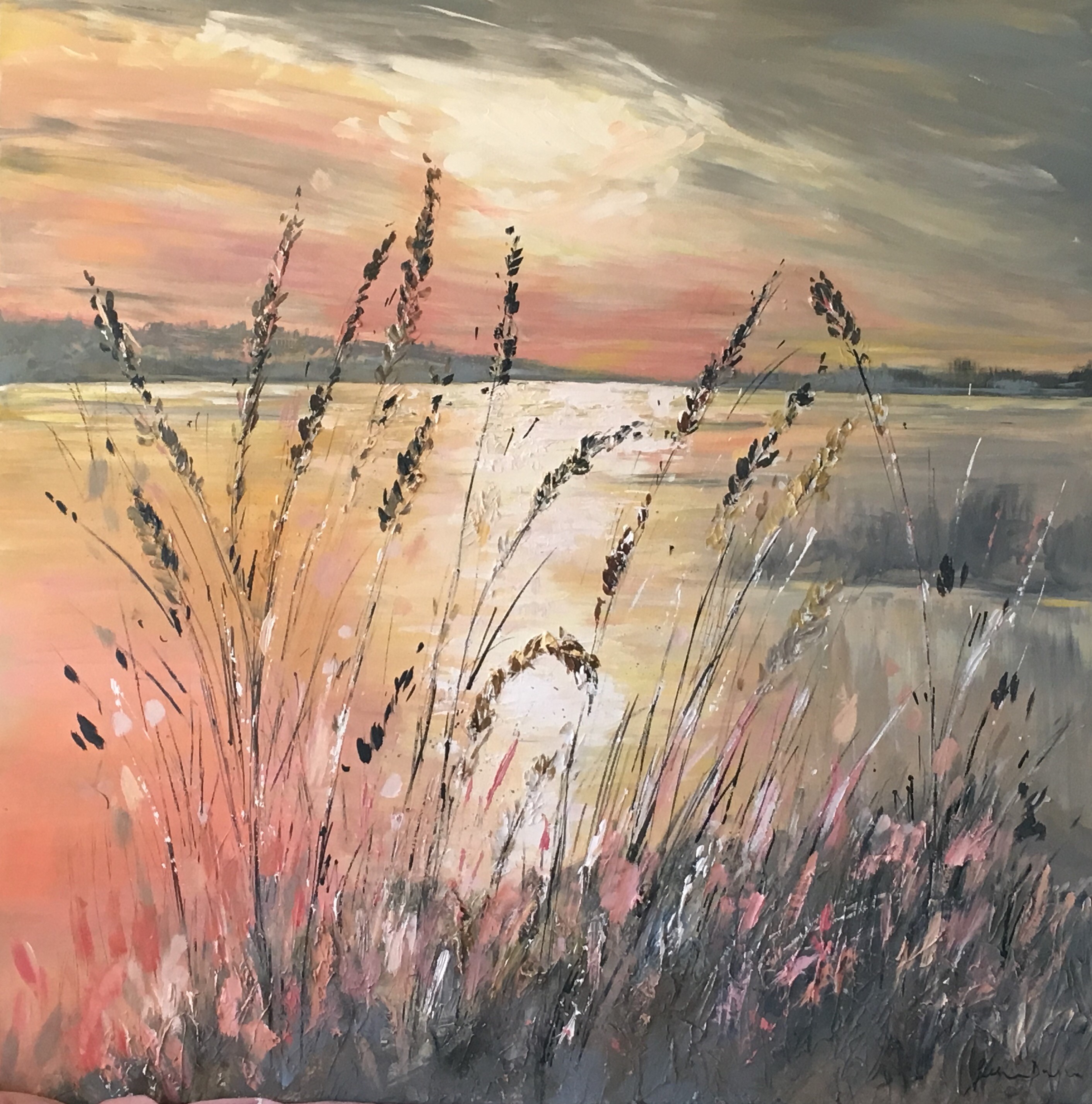 Once having graduated with a BA Hons degree in Primary Teaching and Art from Hull University in 1994, mixed media artist Gillian Durno celebrates her interest in still life, flowers and landscape in her colourful, impressionist paintings.
Gillian paints from her studio set in her beautiful walled cottage garden in Ketton, and also her studio set in the grounds at North Luffenham Hall, Rutland.
A passion for flowers dominate her paintings. Gillian is permanently making mental notes about colour, shape, line and texture when sketching in the Rutland countryside. She regularly stops the car when out driving to quickly capture a particular view, making notes for a new painting.
Gillian is inspired by the continual cycle of nature, and the changing landscape through the seasons. Texture has become an exciting feature of her work, building up layers of collage and mixed media with a palette knife, before painting with acrylic.
Gillian takes inspiration from contemporary artists such as Barbara Rae, Mary Fedden and William Selby. She admires their depiction of everyday objects suspended in their own space, and Barbara Rae's striking use of abstraction and contrasting use of colour in her landscapes.
Gillian has original paintings hanging in private homes in New York, Paris, Spain, London and throughout the UK.
Gillian will be showcasing some of her latest paintings at Burghley Horse Trials from the 5th -8th September on her stand. This will be Gillian's third year at the show.Gillian will be exhibiting her new London cityscape paintings, still life and landscapes with her London gallery, Duncan R Miller Fine Arts of Bury Street, St James's at Christmas and at the Battersea Art Fair in March 2020.
A wide selection of cards and limited edition prints are available to purchase at Gallery Stamford, 3 Maiden Lane, Stamford PE9 2AZ. Gillian will be exhibiting her work at Gallery Stamford from the 1stDec – 11th Jan 2020.
Gillian regularly completes commissions for clients and is happy to offer appointments at her studio.
Need any help?
If you have an interest in particular type of artwork or you're struggling to find the ideal artwork,
please get in touch