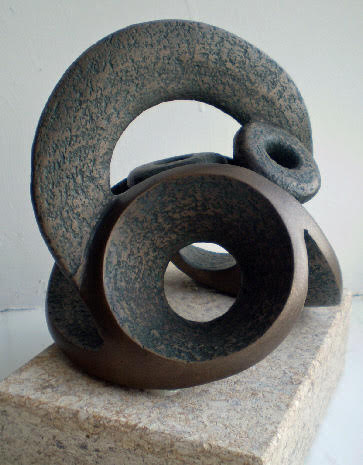 John Crampin is a Lincolnshire-based artist who specialises in sculpting natural and abstract works using locally-sourced stone. Inspiration is predominately drawn from the natural world with much of his portfolio best described as studies in plant, bird and human form. He has placed work in local exhibitions and galleries, extending as far as Norfolk and London.
John's favoured media are durable Ancaster limestone, Portland limestone, Cornish soapstone and alabaster. The ancient sedimentary rocks, common to central and southern England, are a perfect material with which to create his beautiful organic pieces. In contrast, some pieces are sculpted in clay and are then cast in bronze resin or bronze.
Abstract works draw on John's experience as a mathematician where line, surface, balance and symmetry are fundamental. The shapes and profiles used are allowed to adjust their form as the creation of individual pieces progresses. The result is harmonic and tactile sculptures with a deceptive simplicity.
Need any help?
If you have an interest in particular type of artwork or you're struggling to find the ideal artwork,
please get in touch