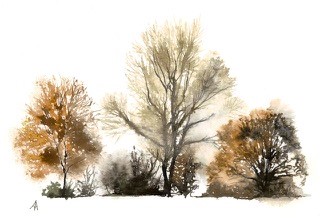 Ann has been painting since her late teens and has been a professional artist since 2008. The landscape is her primary inspiration, particularly mountain and woodland views which she encounters while walking near her home in rural Cambridgeshire and in the Lake District. Her aim is to convey the light and "feel" of a scene, rather than simply the view.
Having concentrated for many years on scenery, she now makes occasional forays into urban landscapes, searching for beauty and drama wherever she travels. London and Venice have featured recently, requiring a very different palette and approach. Further afield, her regular trips to New Zealand also provide inspiration (and bigger mountains)!
Ann generally chooses the medium according to the subject and will sometimes paint the same scene twice in different media. Watercolour, pastel and acrylic have been her mainstays for many years, but she has recently added oil paints to her repertoire, particularly for her mountain landscapes. She also paints portrait and landscape commissions.
Exhibitions and Galleries
Ann's work is held in private collections in the UK and abroad, and is regularly shown in exhibitions and galleries, including:
· The Gallery, Stamford 2021,2017, 2016, 2015
· Royal Watercolour Society, Bankside Galleries, London, 2014 and 2012
· Still Working, Leicester, 2013
· Royal Society of Marine Artists, Mall Galleries, London 2011
· Artist of the Year (runner up), London, 2011
· Society of Women Artists, Mall Galleries, London, 2010
· The SAA Artist of the Year (Category Winner), London, 2010
· Patchings Festival, Nottingham, 2010
Need any help?
If you have an interest in particular type of artwork or you're struggling to find the ideal artwork,
please get in touch